Exclusive Offer by Train Up Children
Betty Luken's Large Deluxe Through the Bible in Felt
The English Large Deluxe Set includes:
- 600 12" figures and objects: Includes 12 figures of Jesus, plus men, women, children, animals, buildings, scenery items, tables, chairs, pyramids, tomb, ark, fiery furnace, and many, many more. All pieces come on large sheets of felt ready for you to cut and place into your file system included in this set.

- 3 mounted backgrounds (32" x 48") - Water and Sky, Indoor and Purple

- 4 bright and colorful overlays - Hillside, Shoreline, Desert and Throne Room

- Teachers Manual with 182 stories in English

- 2 Box filing system for storing all 600 pieces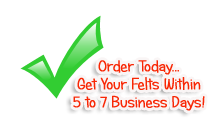 Worth Knowing About:
When you purchase Betty Luken's Bible story set, add Click-N-Print for a
one-time purchase

of $77.00... that's no monthly or yearly fees!
____________________________________________________________________________

What to expect:
When you have an International order, our system will charge a percentage of the total shipping amount due. We'll email you the remaining balance for shipping once we receive the total amount that is due from our postal service.
Please know that oversea prices have gone up with the post office. Unfortunately they charge more for shipping these days than ever before. For example, our customers have experienced a shipping increase on this particular product to range from $39.50 up to $183.55 all depending on the felt size and flannel board option plus mailing location. So, in short, If you pay $19.95 at check out for shipping, please expect the remaining amount for shipping to range from $39.50 up to $183.55.
You may want to consider the Bible Felt Set with Do-it-Yourself Flannel Board Backgrounds.
Shipping of that package is a little less simply due to the weight and box size.
Also, we want you to know that the remaining amount is not marked up in anyway. We pass on every saving that we can back to you. We sincerely want you to have the materials you need to teach little children a pictorial view of God's word.
In any case, whichever you choose we will be happy to accommodate you!
If you have any questions before you order please use our Contact Us page and we'll be happy to answer them as promptly as we can.
____________________________________________________________________
When Using Actual Scripture as the Storyline ~
Foundational Moral Truths are Taught.
The Bible is a historical mural of moral lessons starting on a canvas of absolute authority,and engraved with strokes of logical rules, judgments and consequences.
Then there's a splash of red ~ for the sacrifice of The Son of God who paid the price for ALL of us to gain a relationship with Him and the Father.
This remarkable portrait of grace, the priceless print of redemption from sin, was complete when a 4-sided frame of belief, repentance, baptism, and consecration had revealed its beauty ~ through the letters of the Apostles and disciples of Jesus Christ.
The story line and imagery can go on and on… there are so many moral lessons that are found in Bible stories that 6,000 years of material can be draw from it.
Wow, now that's in-depth curricula!