Origins are Important to a Solid Foundational Faith ~
If you are a parent or teacher (or both) you know the importance of helping children grow in the wisdom and knowledge of the LORD. We want to encourage you and provide biblical materials to make the teaching process easier. We are at a time where biblical foundations need to be strengthened. Children are constantly taught the false theory of evolution through their school systems. These worksheets are meant to help teach children what God's Word says about how He is the ONE who made ALL things.
He is truly powerful, all knowing, and worthy to be praised.
We suggest teaching with one of the three felt sets available: Creation for Kids Flannel Board Set, Story of Creation Famous Bible Stories in Felt, or Days of the Dinosaurs with Playboard then simply use the Days of Creation worksheets as follow-up learning activities.
Days of Creation Printable Set comes as a download, direct to your computer. With Click-N-Print downloads you have access to make as many prints as you need for a one time price.

Permission to Use Unlimited Copies... We make Bible Worksheets Affordable! For example, if your church group has three individual classes teaching children the Creation Account, you can Click-N-Print for each classroom and for as many students as you need. Since the worksheets are designed for multi level learning they can be appropriate from grades preschool to 3rd. This money saving option is ideal for large church groups who have large ministry capabilities.
For Multiple Use Too: This teaching material is intended not only for current lesson review, but for helping children actively read the scriptures, write the scriptures and give them an opportunity to share God's Word with others.
Take a student step by step in learning 7 Creation-Theme Scriptures word-for-word.
Your Choice KJV or NKJV!
Children can learn to read the Scriptures at a young age if given to them one verse at the time.
These Bible worksheets will excel them not only in Bible study skills but also in reading, in handwriting, and memory skills.
Days of Creation Worksheets Include ALL the Following!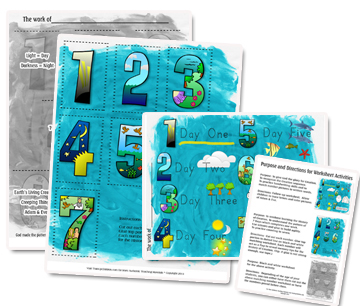 Traceable Creation Review Sheet (For Ages 4-6)
Cut and Paste Matching Follow-up Activity (For Ages 4-7)
Purpose and Directions for each Bible worksheet is Included!
Memorable Days of Creation Reminder Cards with Review Text
Large Size ~ Big Enough for Bulletin Boards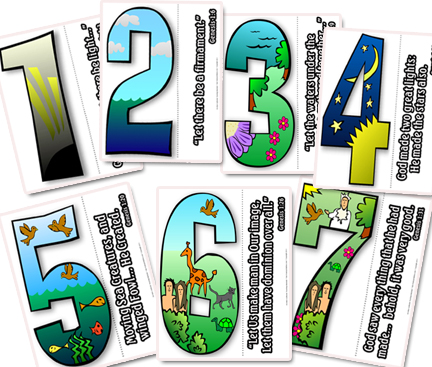 7 Day Number Review Cards with Memory Text:
Use as Bulletin Board Images, Wall Decorations, or Large Review Cards.
Each Number is 5.5x11 and the Review Text is close to 3x11.
These cards can be used on a bulletin board, as wall decorations, and if you apply Velcro to the back they can be used on a flannel board as matching game activity. Recommended for Ages 4-7
Word-for-Word Traceable Bible Verse Worksheets ~
Your Choice Either KJV or NKJV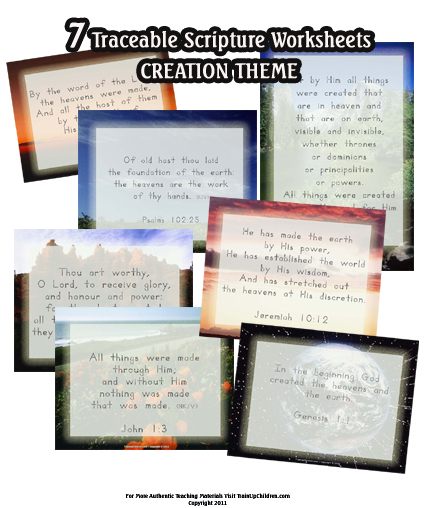 Young children will learn important Scriptures with the help of these Traceable Worksheets (For Ages 6-8)
There are a total of 14 ~ Your Choice of (7) Seven King James Version or (7) Seven New King James Version.
Children will learn Important Verses from Genesis to Revelation, which are CREATION Based, Declaring the Authority and Wisdom of our Creator
Scriptures Include:
Genesis 1:1 ~ In the beginning God created the heaven and the earth. (KJV)
Psalms 33:6 ~ By the word of the LORD were the heavens made; and all the host of them by the breath of his mouth. (KJV)
Psalms 102:25 ~ Of old hast thou laid the foundation of the earth: and the heavens are the work of thy hands. (KJV)
Jeremiah 10:12 ~ He hath made the earth by his power, he hath established the world by his wisdom, and hath stretched out the heavens by his discretion. (KJV)
John 1:3 ~ All things were made by him; and without him was not any thing made that was made. (KJV)
Colossians 1:16 ~ For by him were all things created, that are in heaven, and that are in earth, visible and invisible, whether they be thrones, or dominions, or principalities, or powers: all things were created by him, and for him: (KJV)
Revelation 4:11 ~ Thou art worthy, O Lord, to receive glory and honour and power: for thou hast created all things, and for thy pleasure they are and were created. (KJV)
Memory Verse Activity Enhances Further Learning and Reading Skills
Activity Suggestion to Share God's Word with Others Also Included!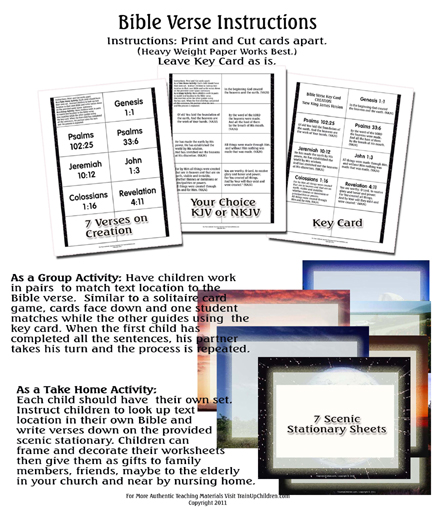 Bible Memory Verses in Game Format (Using Bible Verses as listed above)
Plus, 7 Take-Home Scenic Stationary Sheets (For Ages 7-9)
There are many opportunities children can engage in to share God's Word with others. With these Scenic Stationary Sheets, children can frame and decorate their worksheets then give them as gifts to family members, friends, maybe to the elderly in your church or a near by nursing home.
PLUS... 3 Bonus Dinosaur Colorsheets with Teaching Instructions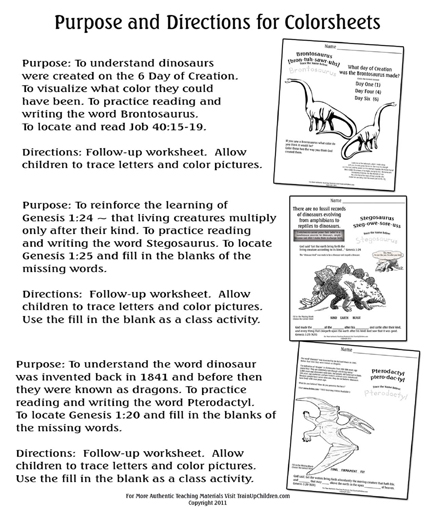 3 Bonus Colorsheets with Teaching Suggestions Included: The Brontosaurus colorsheet helps children learn the meaning of Job 40:15-19, with practice reading, pronouncing and writing the word Brontosaurus. Stegosaurus colorsheet emphasizes the meaning of "according to its kind" with fill in the blank teaching. Children will discover that the word "dinosaur" was invented in 1841 when coloring the Pterodactyl colorsheet, plus locate Genesis 1:20 and fill in the blanks of the missing words.
Recommended for Ages 6-9.